Web Launch
The web launch of St Winefride's Parish Web Site took place on January 1st 2013 after a very busy 10am Mass. The journey began back in July 2012...
We had our first meeting on 23rd July 2012 when eleven interested parishioners gathered in the Parish Office with our then brand new Parish Priest, Fr Ravi.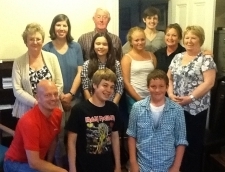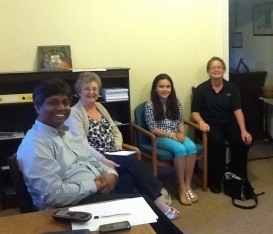 The idea behind the website was to create another means of communicating our Roman Catholic Faith to a wider community as well as being a window onto our own activities within the church. It also was very much in keeping with the Year of Faith call to embrace new technologies for evangelisation.
After our initial discussions, a working committee was formed and the "web team" set to work. We met fortnightly establishing a domain name, discussing what to focus on, collating material, trying out software for site creation and from October onwards actually building the site. The main aim was to keep the site simple to use (everything accessible in "two clicks") and not to be over ambitious.
Many thanks to Tara O'Cleirigh whose expertise in ipads and minute taking was invaluable; Jordan Henshaw who took most of the pictures of church interior; Veronica Cuthbert who managed to pin down our groups and get information from them; Judy Howard who helped tirelessly with the history section and researched and collated the tribute to Fr Courell;and John Lovelady who spent many hours scanning and uploading history, pictures and digitising videos. These hardworking parishioners formed the web team chaired by Helen Jones who collated and uploaded the information with grateful and active assistance from Fr Ravi.
Also many thanks to all the parishioners who so kindly lent us photographs, videos, newspaper articles and those who helped in proof reading, taking photographs, posing and site testing for us.
The site was launched on January 1st 2013 by Mrs May Williams, who at 102 years old, pressed the enter key as St Winefride's was officially launched into cyberspace.
We hope the parish community will be inspired seeing the range of activities and ministries their fellow parishioners are involved with and be moved to join them to strive towards a strong, inclusive parish where all people are made to feel welcomed, valued and loved.
Through communication we enjoy a strengthened communion with one another.
Of course the story does not end here and as time goes on we hope that the site will be used more as parishioners become familiar with it and the intention is to update it regularly thereby keeping the site current and as fresh as much as we can while always looking to the future.
On March 17th 2013, Helen Jones from BBC Radio Merseyside came and interviewed the St Winefride's Webmanager Helen Jones. The radio interview is below.
Here are some pictures from the launch...