The Year of Faith
Year of Faith at St Winefride's, Neston
During the Year of Faith the parish of St Winefride's have undertaken the following activities:
Vatican II Talks - timetable here
Prayer Register
Book of Remembrance
Daily Adoration of the Blessed Sacrament
Faith Formation for those in Liturgical Ministries four times a year
Parish Renewal Programme with Bishop Brian Noble (March 18th - 21st)
Parish Website
A redesigned newsletter
"Communication leads to Communion"
All about the Year of Faith in the Universal Church
Porta Fidei

This Year o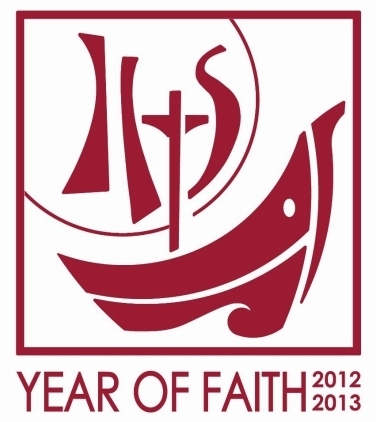 f Faith declared by Pope Benedict is a "summons to an authentic and renewed conversion to the Lord, the one Saviour of the World" (Porta Fidei 6). In other words, the Year of Faith is an opportunity for Catholics to experience a conversion - to turn back to Jesus and enter into a deeper relationship with Him. The Pope has described this conversion as opening the "door of faith" (Acts 14:27). The "door of faith" is opened at Baptism. During this year, Catholics are called to open this door again, walk through it and rediscover and renew their relationship with Christ and with His church.
Why is the Year of Faith this year?
With his Apostolic Letter of October 11th, 2011, "Porta Fedei" - (The Door of Faith), Pope Benedict XVI declared that the Year of Faith would begin on October 11th 2012 and conclude on November 24th 2013. October 11th, the first day of the Year of Faith, was the fiftieth anniversary of the opening of the Second Vatican Council (Vatican II) and also the twentieth anniversary of the Catechism of the Catholic Church. During this Year of Faith Catholics are being asked to study and reflect on the documents of Vatican II and the Catechism so that they may deepen their knowledge of the faith.
How are the Year of Faith and New Evangelization linked?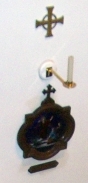 The New Evangelization, which was called for by Blessed John Paul II, is a call to each Catholic to deepen his or her own faith, have confidence in the Gospel and possess a willingness to share this Gospel. The New Evangelization is first and foremost a personal encounter with Jesus; it is an invitation to deepen one's own relationship with Him and a call to each person to share his or her own faith with others, using all the modern media available to take this Gospel to the ends of the earth! The Year of Faith, just like the New Evangalization, is a calling to conversion in order to deepen our relationship with Christ and to share our faith with others.
How does the Year of Faith affect the average Catholic?
Every baptized Catholic is called through Baptism to be a disciple of Christ and proclaim the Gospel. The Year of Faith is an opportunity for each and every Catholic to renew their Baptismal call by living out the everyday moments of their lives with faith, hope and love. This everyday witness is necessary for proclaiming the Gospel to family, friends, neighbours and our society as a whole.
In order to witness to the Gospel, Catholics must be strengthened by acquiring a knowledge of their faith. Taking extra time to study the documents from the Second Vatican Council and by familiarizing themselves with the catechism in a more intense way. They must also seek strength by their participating in the Celebration of the Eucharist and the Sacrament of Reconciliation.
Parishes are encouraged to provide their parishioners with opportunities to deepen their faith during this special year, through retreats, special liturgies, Bible studies, service opportunities and formation sessions on the catechism and sacraments.
Pop into church on the way home from work, school, shopping.
Read and study the scriptures every day.
Read and study The Catechism of the Catholic Church - sign up to Flocknote and get a daily email with a section of the Catechism in your inbox.
Read and study some of the key documents of the Second Vatican Council
Make a pilgrimage.
Make a Retreat or go on a day of recollection.
Consider how you celebrate the Sacrament of Reconciliation. Try to go more often.
Give more time in prayer and Eucharistic Adoration.
Explore ways of deepening your understanding of the holy Mass.
Grow in devotion to our Lady by reading relevant Biblical texts, church teachings and praying the rosary.
Build a Small Shrine or prayer focus in your home for the Year of Faith.
Learn about Lectio Divina.
Take up regular Spiritual Reading.
Consider ways of putting your Faith into Action by serving others.
Offer your time and talents to your parish and get more involved.
Invite someone who is lapsed to go to mass with you.
What we can do as Families
Pray together as a family - grace before meals, prayers before bedtime, family rosary
Try to go to Mass as a family
Place a Holy Water Stoop near the front door so that the family can bless themselves as they come and go from the house.
Display religious imagery in the home.
Celebrate the Church's Liturgy at home - for example an advent wreath, Religious Advent calendars, a crib, lenten prayers, Easter candle.
Keep the Feasts of the Saints after which family members are named
Make a family Pilgrimage - for example to Holywell or St Plegmund's Well, Plemstall (near Chester).
Read Bible Stories with your children.
Read the Stories of the Saints with your family.
Use craft materials to create images of Faith - make rosaries or cards.
Trace the sign of the cross on each others' foreheads before journeys, at bedtime, before school, at the end of family prayers.
Encourage the children to donate their pocket money to help poor children in and around the world.
Invite a neighbour who is lonely into your home for a meal.
What we can do as a Parish
Encourage people to study the scriptures, the Catechism and documents of Vatican II.
Promote Flocknote in your parish.
(Keep your church open for some part of the day).
Ensure more opportunities for Eucharistic Adoration.
Encourage meaningful Marian Devotions and Processions. Redecorate a shrine/altar to Our Lady.
Organise a Parish Mission. Invite a guest preacher to the Sunday Masses.
Arrange a Year of Faith Parish Retreat, Day of Prayer or Day of Recollection.
Plan a parish pilgrimage locally or abroad. Join the diocesan pilgrimage to Lourdes or the Holy Land.
Host a parish Family Day open to all with food and entertainment. Open it up to other parishes.
Year of Faith Vatican II Talks
In the Parish Hall (7:00pm refreshments, talks start at 7:30pm. Night prayer at 8:45pm).
2nd Thursday of every month.
ALL WELCOME!
October 11th
Mgr Chris Lightbound
The Church Then and Now
November 8th
Fr David Roberts
Eucharistic Ecclesilogy
December 13th
Canon Chris Walsh
Liturgical Renewal
January 10th
Fr Nick Kern
Christian Unity
February 14th
Fr David Long
Small Christian Communities
March 13th
Mrs Cecilia Allen
The Laity within the Church
April 11th
Canon John O'Reilly
The Word of God and the Signs of the Times
May 9th
Canon John Marmion
The Church in the Service of the World
June 13th
Fr Denis Marmion
Jews and Christians
July 11th
Canon Brendan Hoban
The Church's Challenges and Hopes