SPUC NEWS
Thanks to the parish for your wonderful ongoing support!
SPUC WALK OF WITNESS 2013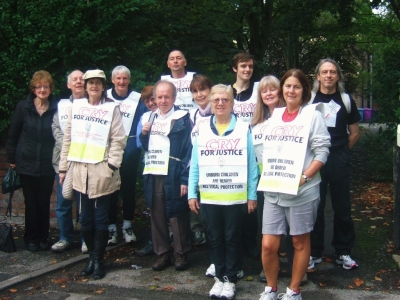 The Merseyside Annual walk of Witness took place on Saturday 5th October, we were blessed with wonderful weather. We meet outside the Abortion Clinic in Aigburgh, were prayers were said for the unborn.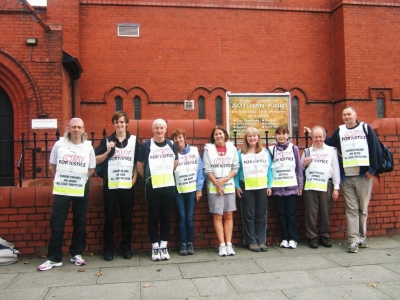 Three people walked from our group in Neston, plus Jordan Henshaw, who is the president of our Youth SVP Group. We started by walking down to Liverpool city centre, along Bold Street, through crowded Church Street, then along Scotland Road where we stopped at St Anthony's. Then it was on to Bootle, approximately seven miles.
Here we had our welcome packed lunch and a cup of tea in St Matthew's (Church of England) hall, Some of us left then, but eight fitter people walked the rest of the route through Crosby to St William of York in Thornton a total of nearly fourteen miles.
Report from Margaret Unsworth (Chairman of the Ellesmere Port and Neston Branch)
Report from the SPUC Northern Conference 2013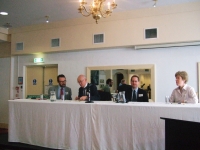 The one day conference took place on Saturday 21st September at the Norbreck Castle Hotel. It was attended by over sixty people from all over the North West of England including four of us from our Ellesmere Port and Neston branch.
We were welcomed to the meeting by Robin Haig the National Chairman of SPUC and the first speaker was Anthony Ozimic one of SPUC's senior information Managers, who brought us up to date with all that had been happening in SPUC and the current campaigns.
The second speaker was Antonia Tully, who is in charge of SPUC's Safe at School campaign. She told of the success of banning Channel 4's controversial videos called "Living and Growing" from being sold to primary schools. She also warned us about potential unsuitable teaching materials being introduced at secondary school level and posed the question "Will this Help or Harm our Young People?"
After a very nice lunch in the hotel our afternoon speaker was Paul Tully, SPUC's General Secretary who talked about medical reasons for abortion urging us to write to our MPs asking the question "Why is a law that has been made by parliament being continually abused by the abortion industry?"
The afternoon finished with workshops which gave us a chance to have our say and discuss the topics that had been on the agenda. It was a wonderful conference, not just because of the excellent speakers, but it also gave us a chance to meet old friends and renew our spirits for our pro life work.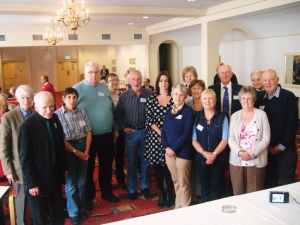 Report from Margaret Unsworth (Chairman of the Ellesmere Port and Neston Branch of SPUC)
Report from AGM on 17th April 2013 in pdf format.
Picture Galleries below inclduing the AGM on Wednesday 17th April 2013 with John Smeeton, the Chief Executive of SPUC.