DIAMOND JUBILEE
FR CHRISTOPHER LIGHTBOUND'S 60 YEARS OF PRIESTLY MINISTRY
10th July 2015
Fr Chris was born on 31st July 1930 in Wallasey to Vera and Joseph, their third child and a brother to John and Anne. He was baptised at the old church of Ss Peter and Paul on 4th August 1930, received his First Holy Communion on 17th July 1938 and was confirmed there in October.
His early school years were spent at Maris Stella Primary School in New Brighton and at the Christian Brothers' St Anselm's College in Birkenhead. He then entered Ushaw Junior Seminary in 1943 where he remained until 1949 to continue his studies for the priesthood at the Venerable English College in Rome.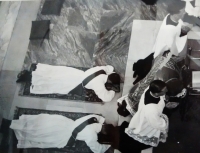 He was ordained priest at Our Lady of the Snows Chapel, Palazzola near Rome on 10th July, 1955 by Archbishop William Godfrey. He finished his studies in Theology and Canon Law in 1958, and returned to the Diocese of Shrewsbury to start his priestly ministry at the Cathedral under Canon Terence Walsh. His next posting was as Assistant Priest to Fr Michael Elcock at Our Lady and St Christopher, Romiley.
He returned to Wirral in 1970 as Parish Priest at Our Lady of Pity in Greasby during the exciting years after the Second Vatican Council and in 1980 celebrated his Silver Anniversary. In 1982 Bishop Joseph Gray appointed him as Vicar General of the Diocese, and as Parish Priest to St Teresa's, Wilmslow, with a roving commission in the pastoral care of the clergy until the year 2000.
His final postingas Parish Priest was at the historic parish of St Mary of the Angels in Hooton where he stayed until his retirement in 2003. In July 2005, Fr Chris celebrated his Golden Jubilee of priesthood.
We thank God for the gift of Fr Chris to the Church and for his 60 years of ministry in the Diocese of Shrewsbury. At St Winefride's, Neston, we continue to be enriched by Fr Chris' presence as we live, share and celebrate our calling to be "Firm in Faith, Joyful in Hope and Active in Charity".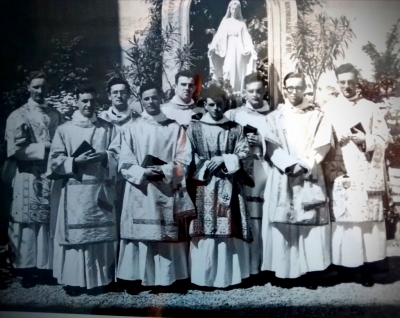 Ordination Class of 1955